Contact Us
Iberostar Cozumel - 5 Star All-Inclusive - Cozumel, Mexico
Vacation Store Miami offers All Inclusive Vacations at unbelievable discounts on an extensive selection of resorts in the Caribbean. Let our professional staff help you find your perfect family vacation, weekend getaway, spring break vacation or that special honeymoon.
Why choose Vacation Store Miami?
Amazing Prices on Caribbean Vacations.
Over 20 years of experience.
Did we mention LOW PRICES?
Satisfying our Guests is our principal aim. Therefore we would like to facilitate the reservations process with our telephone reservations service. If you need help, contact us by phone or EMAIL US.
Call Us Nationally at 1(888) 774-0040 or at (305) 774-0040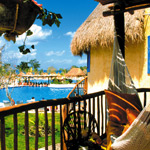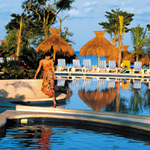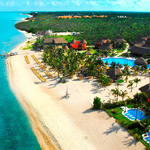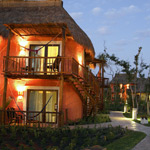 Location of IBEROSTAR Cozumel Hotel
The IBEROSTAR Cozumel Hotel soars above the sands of Playa del Carmen, on Cozumel, Mexico's largest island, located a mere 12 miles from the Cozumel Airport and 11 from the city. Mexico enjoys a warm, pleasant Caribbean climate year-round, which creates the picturesque beaches and scenery that surround IBEROSTAR Cozumel.
Magnificent Coral Reefs. Thanks to its privileged geographic location, the impressive Palancar and Santa Rosa Wall reefs surrounding the hotel make it a must-see destination for scuba fans. Cozumel is also home to spectacular underwater caves. These aquatic gems are marvelous limestone formations that have been carved out by the water over thousands of years.
Historical Legacy. A trip to Cozumel would not be complete without visiting the many archeological sites and ancient temples. No history book can compare to a live excursion to these incredible sites. They are the perfect combination of nature, history, and breathtaking imagery
Entertainment at Iberostar Cozumel Hotel
Along with Cozumel's hypnotic reefs and sparkling Caribbean waters, the IBEROSTAR Cozumel Hotel provides a world of fun activities and entertainment options for the entire family. Kids of all ages will be engaged with programs geared just for them while adults will be able to indulge and pamper themselves day and night.
Main Swimming Pool
Kids Club
Theater Shows
Program of activities, for children, teens and adults
Sports at Iberostar Cozumel Hotel
On land or sea, from intense to laid back, the IBEROSTAR Cancun Hotel provides fun, challenging and unique sports and activities geared for adults and kids alike. Not to be missed is a chance to explore the fantastic world beneath the waves on one of the world's most exotic reefs just offshore. With the soft sands, blue skies and tropical waters as a backdrop, you and your entire family will have the perfect vacation adventure of a lifetime.
Gym
Snorkeling ($)
PADI Certified Diving Center ($)
Program of activities, for children, teens and adults
Services at Iberostar Cozumel Hotel
A staff of the most dedicated professionals here at the IBEROSTAR Cozumel Hotel are driven to provide you with the widest range of conveniences, services and attention to your every need to ensure that your stay with us perfect in every way.
Concierge
WiFi available in the Lobby
Service and Taxes included
All Inclusive Restaurants at Iberostar Cozumel
No matter your tastes, the IBEROSTAR Cozumel Hotel features fine dining options that are sure to please. All the wonderful dishes and beverages are carefully prepared to be a feast for the eyes as well as the palate. Superb Mexican cuisine naturally takes center stage with the authentic flavors of the country. For a change of pace, excellent international fare is also on offer. Both buffet style and a la carte restaurants are featured at our top All Inclusive hotel, as well as several inviting bars that are open throughout the day, serving up the most refreshing cocktails and snacks.
3 Speciality Restaurants
1 Buffet Restaurant
3 Bars